Corporate Social Responsibility
CSR Compliance, Social Contribution Activities and Risk Management
CSR is positioned as priority corporate social responsibility (CSR) actions for the Toyota Boshoku group based on our corporate philosophy, the TB Way and the Toyota Boshoku group code of conduct We strongly promote initiatives for stakeholders as a global enterprise.
Our global CSR Committee promotes CSR activities around the world by formulating policies for group-wide CSR efforts, developing activities, following up on their progress, deliberating and evaluating priority action items for implementation. 
Legal and regulatory compliance as well as completely fair and transparent corporate activities are needed to maintain the trust of society as a good corporate citizen. To that end, it is essential that individual members have a proper awareness, make appropriate judgements and act responsibly. 
Toyota Boshoku has declared our corporate philosophy as "promotion corporate growth while fulfilling our responsibilities as a good corporate citizen. As we undertake business activities around the world, we instruct members throughout the entire group to conduct themselves using a good judgement.Thorough compliance awareness
Legal risks
Compliance with antitrust laws
Thoroughgoing export control
Initiatives regarding Corporate Ethics Reinforcement Month
Education and awareness raising
Improving consultation and reporting contacts
Compliance with export control
The Toyota Boshoku group promotes activities in compliance with the Security Export Compliance Program (Export CP) in order to appropriately implement security export control aimed at maintaining international peace and security. This includes making decisions on whether or not products and machinery equipment exported overseas, and engineering information such as technical drawings and production technology supplied outside Japan, comply with laws and regulations related to security export control.
URL: https://www.toyota-boshoku.com/global/sustainability/governance/compliance/
Toyota Boshoku group is working to comprehensively reinforce risk management via the creation of an effective risk management system in order to respond swiftly to management risk, risk in daily operations and other risks such as disasters and accidents.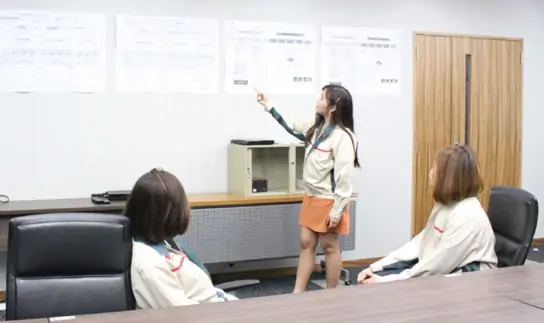 Emergency Operation Center (EOC) Room
Basic Risk Management Policy
Endeavour to predict and prevent crisis.
Give maximum priority to assure the safety of human life should a crisIS Occurs.
Should a crisis occurs, centralise information and promptly investigate the cause, respond appropriately and minimise damage.
In case of significant social damage or impact.release information promptly in a good faith.
We aim to realise corporate growth while fulfilling our responsibility in harmony with society as a good corporate citizen while contributing to society through manufacturing. In order to meet the expectations and trust of all stakeholders, we comply with laws, regulations and ethics and promote activities based on corporate social responsibility (CSR) in everything we do.
As "a trusted company that grows together with all stakeholders". Toyota Boshoku Asia will grow with in harmony with society thorough reinforcement of risk management as well as building good relationships with all stakeholders and contributing to local communities.